Hello and Welcome! I am Karen, puzzlecutter & webmaster of Keystone Puzzles! I am from the beautiful hills of southwestern Pennsylvania where I live with my husband, son and two cats. I like to create puzzles from wood and hope that my work will last for generations to become family heirlooms and collectibles one day, in a similar fashion as Par or Pastime.

My puzzles are unique and can not be duplicated. I cut freehand (without using a pattern) except when I cut figurals or dropouts into the puzzle, or sculpt the edges. I plan and make the entire puzzle from start to finish. From prepping the board and mounting the print to designing or deciding which figurals to include- as well as proper positioning of them in regards to placement or color when appropriate- and sanding the back of the puzzle after it is cut. I also make and finish the wooden boxes that come with the larger sized puzzles.
Scroll Saw & Blades
All of my puzzles are meticulously cut by hand- one piece at a time- using a 20" variable speed Eclipse scroll saw and some of the finest blades on the market which have a thickness of just 0.008! (That is 8 one-thousanths of an inch!) Using blades this fine enables a tight fit to the finished puzzle- as well as producing a beautiful puzzle with cutting lines so tiny they do not detract from the picture! It also means I go through a lot of blades with each puzzle because they tend to get dull quickly!
Cutting mini puzzle #17 "Vegetable Basket"
| | |
| --- | --- |
| Wood | |
I use 1/4" 5-ply birch plywood, which is a very high quality wood. It is extremely strong and enables me to cut intricate pieces. I have used both Finland and Baltic Birch, depending on availability. I switched to a maple/birch plywood in recent puzzles (outer plies are maple; inner plies birch) after my supplier discontinued the Finland and I found that the maple often produced superior results to the baltic (noticeable only upon close examination of the backside of the puzzle). So I plan to use the maple/birch combo in future puzzles, so long as available. (Basically, I always use whatever is the highest quality wood I can get at the time and I always note in the description of puzzle what type of wood was used.)
After cutting the puzzle, it is turned over (I assemble it as I go) and sanded smooth. It is then disassembled and the pieces carefully counted.
Stacking the pieces for a quicker count:
Prints
I love to make puzzles from anything that I feel will make an outstanding puzzle including antique prints or other paper ephemera. I do not print my own pictures so all artwork is purchased by me for use in the puzzle. You may also contact me to create a puzzle from your photograph, but I do not include my key signature piece in such puzzles. (I will sign the back of another piece instead.) I occasionally make an exception at my discretion if I feel it is appropriate for the puzzle (if the puzzle is cut in one of my specialty cuts for example).
1950's apple crate label: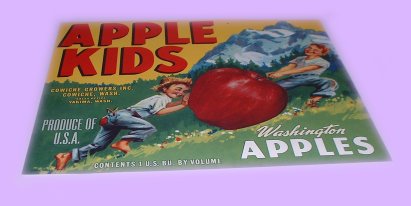 early 1900's original can label:


All prints are carefully chosen; I am quite discriminative in what I select to make my puzzles out of. I have a special fondness for prints done of children and animals as well as beautiful landscapes. I also find prints with lots of color and detail very appealing and perfect for puzzle making.
It is my hope that Keystone puzzles will become family heirlooms that will be passed down from generation to generation, so I enjoy going out of my way to search for beautiful and rare prints to use!
Prints are mounted onto wood using an acid-free adhesive. I sometimes seal antique prints so that I can do my figural work and to further preserve them if they are not already laminated. Otherwise nothing is usually done to the top of the print as most modern prints already have a layer of lamination.
Below are a few of my vintage prints & valentines that may be next to become puzzles!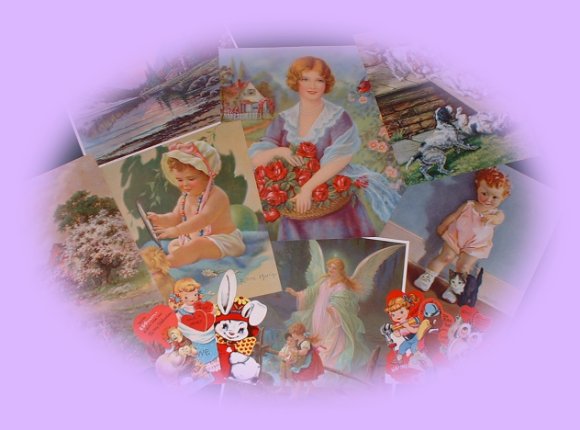 Signature Piece
There is a special figure piece included in most of my puzzles.. It is my "Key" signature piece and is signed, numbered and dated on the back.
Occasionally, instead of including my signature piece, I will choose an interesting random piece to sign and number the back of instead. I do this when I feel that the signature piece in some way detracts or doesn't go with the rest of the puzzle, such as if the pieces are unusually small or large, etc.
With the exception of my signature piece, other figurals, drop-out work or sculpted edges, I cut freehand, using my imagination as I go, which means I use no patterns. Each hand cut puzzle is one-of-a-kind and can not be duplicated, even if the same print is eventually used again. For more about my unique cutting styles, please visit Cutting Style.




Storage Box
| | |
| --- | --- |
| | handcrafted solid pine storage box |
Included with every puzzle purchase (unless otherwise specified) is a storage box to hold and protect your puzzle! Boxes vary in size or shape. Small puzzles (8" X 10" or smaller) may come with a cardboard (not shown) or basswood box (pictured below). Larger puzzles come with a handmade solid wood box with sliding lid (stained and finished with shellac, see photo above) My label is affixed to the outside of the box with the puzzle title, number, and piece count.
Assortment of basswood storage boxes: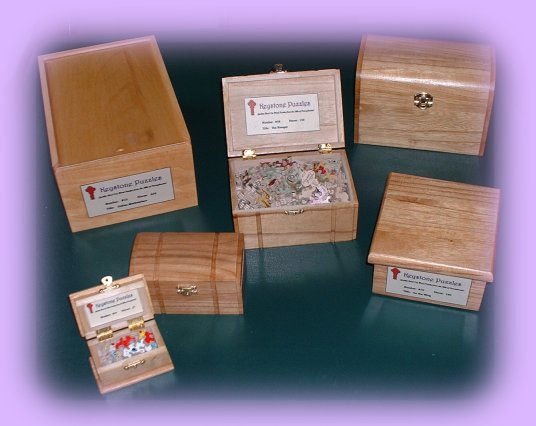 Pricing
Pricing varies with each puzzle, depending on how much time it took to make. Below is an estimated price chart for a customized puzzle.
Special figural requests or advanced cutting techniques (including drop-outs, sculpted edges, etc) will add to this cost.:
Standard Cut: $1.25 per piece
Artistic Cut: $1.75 per piece
Spiral Cut: $1.75 per piece
Long Arm Cut: $2.00 per piece
Enhanced Spiral Cut: $2.25 per piece
Payment
I accept checks (may be held clearance at my discretion- usually for large amounts, or new customers) & money orders. I also take PayPal. If you find a puzzle you want to purchase, make a note of its Puzzle Number and Title and send me your order by filling out the order form found at the top of most pages. This will notify me to put this puzzle on hold for you. Then I will e-mail you back to confirm that the puzzle is still available and will give you the total with shipping & payment instruction. (Repeat customers need only include your e-mail address, if your address hasn't changed.)




Links
For a list of other wooden jigsaw puzzle makers, click here! (Be sure not to miss my greatest inspiration, John Stokes at Custom Puzzle Craft. His dedication to his work as well as his "Creative Style" of cutting is in a class by itself!)


Whether you are a serious puzzle collector or an occasional puzzle solver who enjoys a good challenge, I am sure you will find my unique hand cut wooden jigsaw puzzles to be a worthy investment that will provide you and your family with many years of enjoyment!
Please feel free to contact me with any questions or comments you might have.. I am looking forward to hearing from other puzzle enthusiasts!


Yours truly,
Karen
Puzzlecutter & Webmaster of keystonepuzzles.com