#471 Take Time
(527 pieces)
~ This is a handmade, hand cut, one of a kind wooden jigsaw puzzle! ~
If you would like to be notified whenever I post new puzzles for sale, click here!
Take Time is a large puzzle featuring a wonderful verse with a border of colorful flowers. I've given the puzzle an irregular edge, cutting around the flowers. Makes a really pretty puzzle and will be more difficult to solve too! Cut in my Standard Cut with a total of 25 figurals!
There is an average of 2.0 pieces per square inch. Puzzle has been hand cut from 3-ply maple plywood 1/4" thick. I believe the middle layer is MDF, a pressed wood product. It has no voids and is dense and heavy. I cut this puzzle one piece at a time with my scroll saw. Made to last for generations to become family heirlooms and collectibles. Measures 14 1/2" X 18"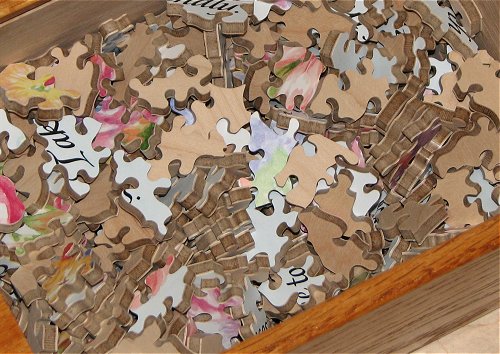 25 different figurals! Includes 5 flowers, 5 butterflies, 5 birds, 3 insects, 3 other animals, 3 objects and my "key" signature piece (signed, numbered and dated on the back)
Irregular edge. Standard Cut. Interlocks well overall; not every piece is fully interlocking. Excellent wood with no chips on back and no voids.
Puzzle will come disassembled inside a beautiful hand made and finished oak wood box similar to the one shown. My label is affixed to the front of the box with the puzzle title, number, and piece count.
Note: This puzzle contains small pieces which may present a choking hazard to children. It has been designed for adults or older children and is not meant for young children.
Payment & Shipping:
Accepted payments include check, money order, or PayPal. (Personal checks may be held clearance.) I cannot accept credit cards directly, but you may pay me with credit card through PayPal.
PayPal—eBay's service to make fast, easy, and secure payments for your eBay purchases!
I will reply to your order with the shipping fee and payment instruction if you are sending a check or are new to PayPal.. If you are in U.S. shipping will be $15.00 priority.
Copyright Notice:
All content including layout, text, images, graphics, logos and source codes is copyright protected. Unauthorized use of the content found therein including modification, distribution or duplication, in part or in full, is strictly prohibited.
Copyright ©2011, Keystone Puzzles.
All Rights Reserved.